Allergy-Aware Ice Cream Awesomeness
Decadent ice cream for everyone
Since our days as a pop-up ice cream stand, we've been creating uncompromisingly delicious, allergy-aware flavors. This dedication plays out in two ways.
First of all, crafting allergy-aware ice cream is all about the details.
We truly enjoy creating vegan ice cream flavors that are not only non-dairy, allergy-aware versions of our popular dairy flavors, but are also creatively scrumptious in their own right. 
We are committed to having 8 vegan ice cream flavors available at all times, so our customers know there will always be a large assortment waiting for them. Our vegan ice cream is always nut-free and gluten-free to keep cross-contamination to a minimum. We have three kinds of dairy-free ice creams: coconut based, oat milk based (which is not certified gluten-free), and sugar or fruit based sorbets. We list all the major allergens for each of the ice creams on our flavor board, as well as some minor ones.  Wondering which vegan flavors we are serving up?  Check our Flavor page to see what we're scooping day to day! We post an update daily so you can know which fresh ice cream is available. Plus, not only do we bake gluten-free brownies and cookies for our ice cream treats, but we've also developed a delicious gluten-free, vegan waffle cone. These cones are cooked in a dedicated own waffle iron and stored separately.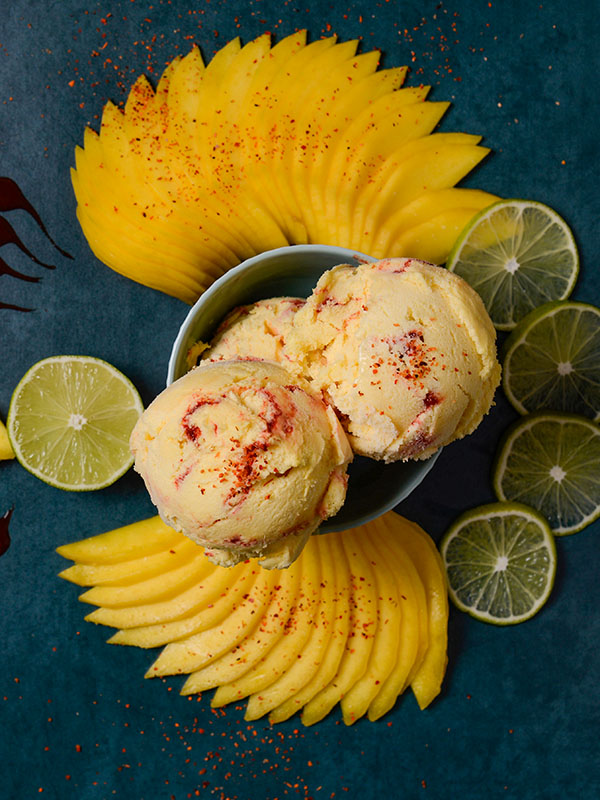 How much thought have we put into our allergy-aware focus? So much so that we make our ice cream in order based on major allergens, and nuts never go into the ice cream machine. For any nut flavors that we have, the nuts are added directly into the tub after the ice cream comes out frozen. What this means: we won't make a vegan ice cream after a dairy ice cream without the entire machine going through a wash/rinse/sanitize/dry cycle. 
Secondly, no matter which ice cream flavor a customer orders, the customer experience always comes first.
From the minute a customer steps into the Swanky Scoop shop, we want them to feel welcomed.  That means taking the guesswork out of ordering for our allergy-aware friends.
We've created a simple-to-scan icon system so our customers can quickly see what common allergens are used in our flavors (the icons include dairy, gluten, peanuts, soy, eggs, tree nuts, corn, coconut, sesame and synthetic color).
We keep the non-dairy ice cream scoops in their own cabinet.  Our Scoopers, without asking, change their gloves before handling a gluten-free cookie or cone.  We know there is a slight risk of cross contamination from a dairy ice cream cone or bowl being held near the vegan flavors while being served (for instance, someone gets a cone with vegan ice cream, or a double scoop of regular and vegan). So for anyone who alerts us to a severe allergy, we are happy get a "clean" container from the back and use a fresh scoop. We also have a system for our most allergy-sensitive customers: if you know you will be coming in, call the shop to give us a heads up. We can usually have a "clean" tub pulled out of our deep freezer in the back to get it softening or let you know what flavors will be available.
Our goal: everyone can enjoy incredible ice cream together at Swanky Scoop.
It fills our hearts when a customer tells us that our gluten-free waffle cone is the first one they have had in over 20 years.  We enjoy hearing from our customers – whether it be questions, suggestions, or unique needs – so stop by for a chat and a sample. 
We can't wait to share our ice cream awesomeness with you!
Absolutely delicious! I am so excited to have fun non dairy flavors. The quality is excellent. I usually dislike the texture of most dairy free ice cream, but these are wonderful!! I especially loved the mint matcha chip and the OMG sorbet. It tasted like fresh squeezed juice - sunshine in a scoop. Not gonna lie: I could just eat the waffle cones on their own. So good.

That non dairy chocolate peppermint is legitimately some of the best ice cream I have ever had, dairy or non dairy! Yum!

Inventive flavors that taste amazing! Very excited about the allergy consideration, especially the gluten free cones. I will absolutely be coming back!
Come by for a scoop with us!
Monday: Closed
Tuesday: 12:00 - 8:00pm
Wednesday: 12:00 - 8:00pm
Thursday: 12:00 - 8:00pm
Friday: 12:00 - 10:00pm
Saturday: 11:00 - 10:00pm
Sunday: 11:00 - 8:00pm